We organised a styled bridal shoot with a glittery festival twist - here's how it went!
Hey glitter lovers, it's Alice! I'm resident marketing manager here at EcoStardust HQ and part-time model. Alongside my job of creating the super sparkly EcoStardust digital presence, I have also been entrusted with the sacred duty of organising some very exciting glittery photoshoots – eep! All of course featuring our beautiful Bioglitter®.
Let's go behind the scenes
Today I want to take you behind the scenes of a mini styled bridal shoot we organised in collaboration with some amazing suppliers.
You might have seen that we decided to opt out of festivals this year due to covid, personal issues amongst the team, and being super busy working on new projects. It was a difficult decision and we missed getting glittery in a field, big time.
So because we didn't make it to the festivals this year, we decided to make our own!
It's been in our minds for a while to create a glittery festival style wedding photoshoot, and we DID it. Read to the bottom to see the finished result.
1 - Finding our dream festival style bridal outfit
So, this being a bridal shoot, we needed some bridal gear… with a festival twist.
Luckily, I knew of an amazing local designer (Rose Savage Bridal) based in Bristol who creates modern, quirky bridal outfits.
I knew one of her pieces would be perfect.
She offered to lend us a beautiful 4-piece outfit including an embroidered hot pant and bandeau set, and 2 slinky skirts. Hello festival perfection!
You can find Rose here.
2 - Finding the perfect festival headpiece
Next up we needed a headpiece. A twist on the usual veil, we went on the hunt for some white head gear that would compliment our outfit and Bioglitter®, and I think we nailed it.
Around the same time we were organising the shoot, independent festival gear company Wild Thing were hosting a pop-up shop in the centre of Bristol stocking clothes, jewellery, accessories, and head pieces.
I approached headwear designer Luna Blue who was being stocked at the pop up, and together we selected the perfect piece.
I dropped into the pop-up to pick it up, and we were ready to go.
3 - The most beautiful colourful bridal bouquet
Let's not forget, every bride need a bouquet!
Of course it had to be festival appropriate, so naturally we went with the unbeatable theme of "COLOUR EXPLOSION".
We think you'll agree that Divina Botanica absolutely delivered on that brief with this stunning arrangement.
Setting the scene: creating the festival backdrop
With all the gear ready to go, it was time to get the set together.
We were lucky enough to have access to a big empty field, and I put up a bell tent to complete the festival scene.
Luck was also on our side with the weather all weekend, so we were able to set up and shoot without getting rained on (despite some big mean grey clouds threatening to).
We added a few woven rugs, a tea set, some cute bunting, a vintage lantern, and we were dancing in festival paradise in no time.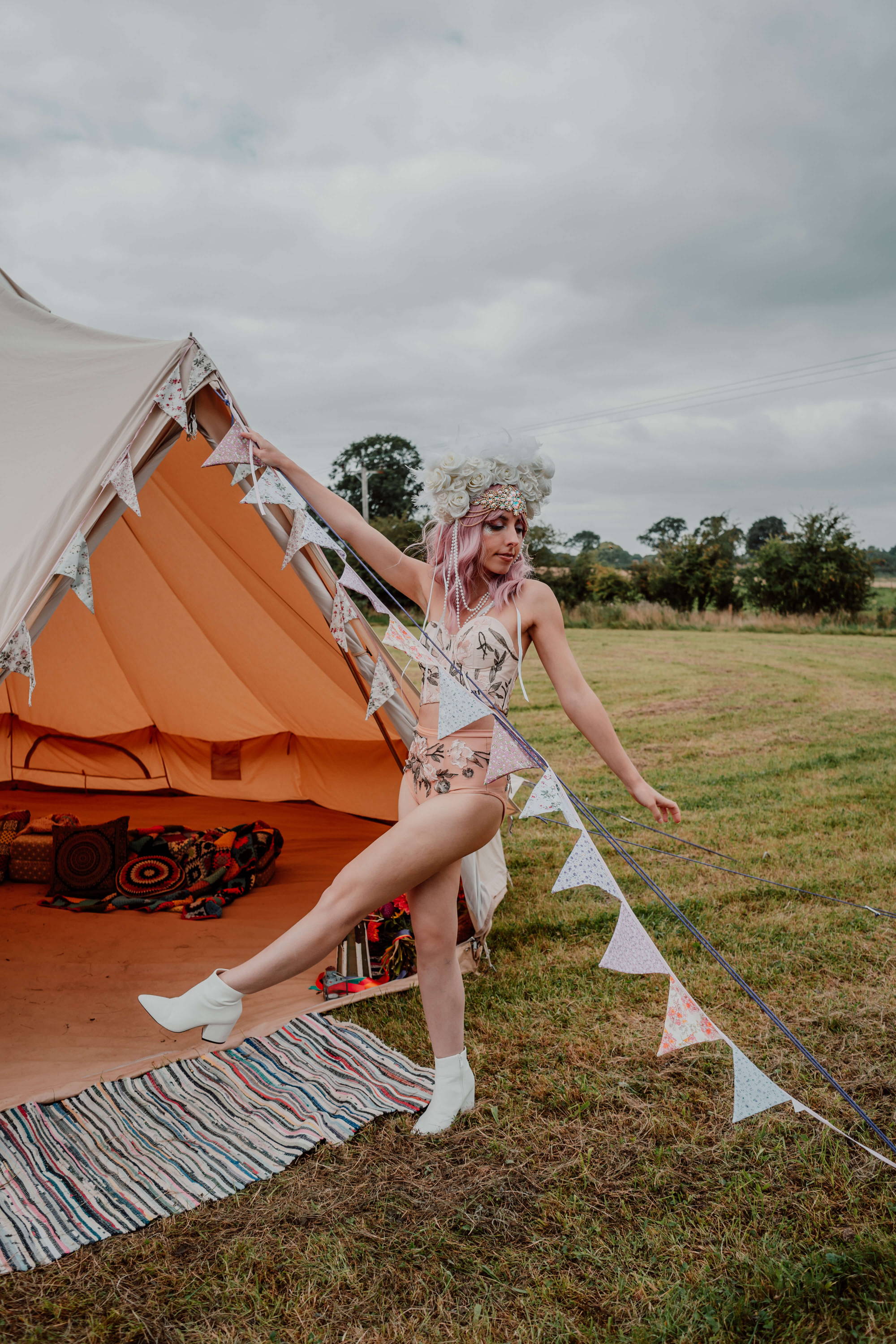 Getting glittery: the festival glitter look
Last but certainly not least – GLITTER BABY.
Created with some of our bestselling biodegradable Bioglitter®.
We went for a mix of subtle bridal and classic festival. On the eyes is a combination of Baby and Pure Opal for an iridescent topper.
Under the eyes is Abalone with some Pure Opal sprinkled in for good measure.
The combination worked perfectly with the headpiece, and the slight pink tint from Baby complimented the outfit and pink wig perfectly.
I think we're ready to see the finished result, expertly captured and edited by the lovely and talented Sarah Scorey.
Check out her amazing work here.
Are you ready for it?!